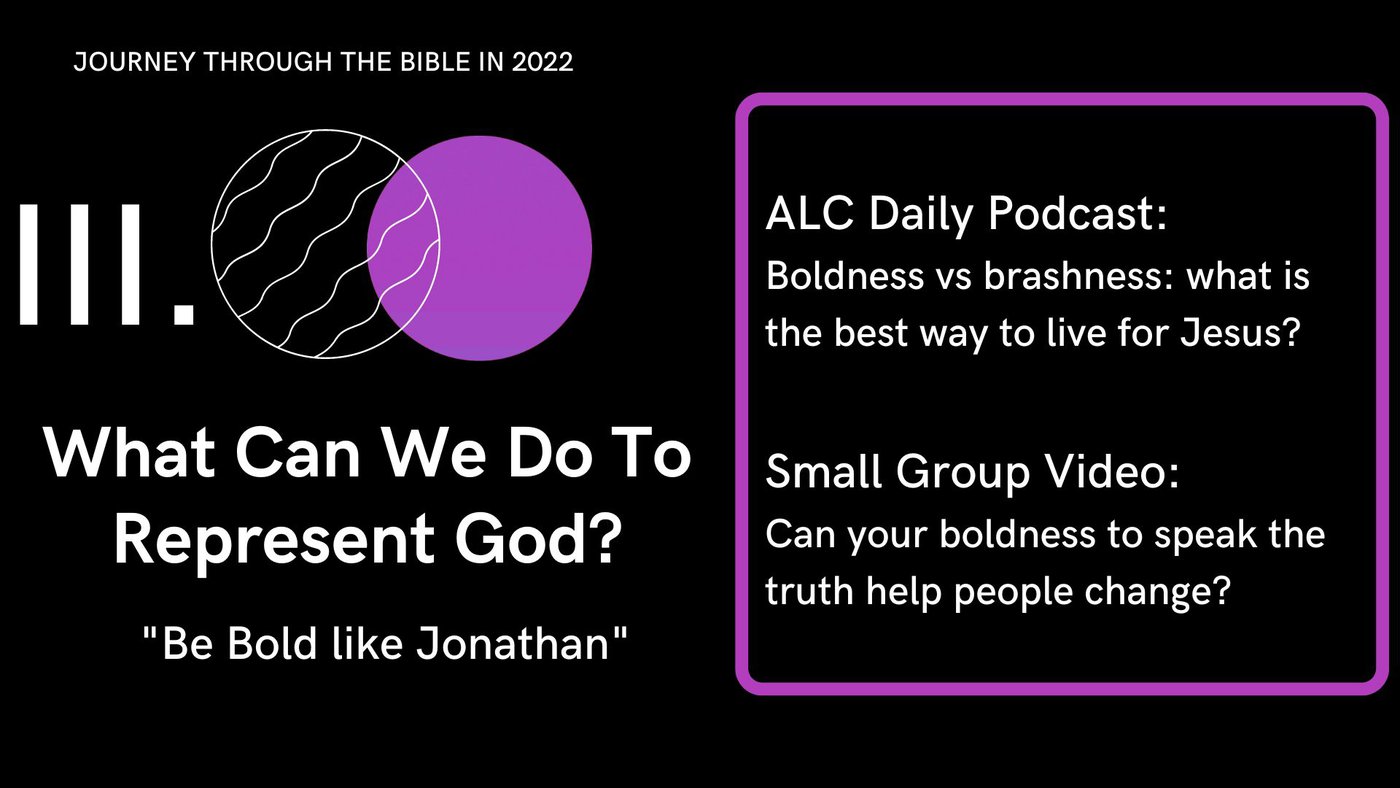 1 Samuel 14:6 NLT
6 "Let's go across to the outpost of those pagans," Jonathan said to his armor bearer. "Perhaps the Lord will help us, for nothing can hinder the Lord. He can win a battle whether he has many warriors or only a few!"
How can you be bold enough to make a difference and represent God?
1. Take initiative (1 Samuel 17:32, Mark 4:35, Acts 13:4)
1 Samuel 14:1 NLT
1 One day Jonathan said to his armor bearer, "Come on, let's go over to where the Philistines have their outpost." But Jonathan did not tell his father what he was doing.
1 Samuel 14:2-3 NLT
2 Meanwhile, Saul and his 600 men were camped on the outskirts of Gibeah, around the pomegranate tree at Migron. 3 Among Saul's men was Ahijah the priest, who was wearing the ephod, the priestly vest. Ahijah was the son of Ichabod's brother Ahitub, son of Phinehas, son of Eli, the priest of the Lord who had served at Shiloh.No one realized that Jonathan had left the Israelite camp.
2. Embrace hardship (1 Samuel 17:45-46, Acts 9:16, Romans 15:20)
1 Samuel 14:4-5 NLT
4 To reach the Philistine outpost, Jonathan had to go down between two rocky cliffs that were called Bozez and Seneh. 5 The cliff on the north was in front of Micmash, and the one on the south was in front of Geba.
3. Lead by example (1 Samuel 18:7, Acts 9:20-21, Romans 15:18-19)
1 Samuel 14:6-7 NLT
6 "Let's go across to the outpost of those pagans," Jonathan said to his armor bearer. "Perhaps the Lord will help us, for nothing can hinder the Lord. He can win a battle whether he has many warriors or only a few!" 7 "Do what you think is best," the armor bearer replied. "I'm with you completely, whatever you decide."